Regular price
$31.00 USD
Sale price
$31.00 USD
Unit price
per
Sale
Sold out
Refills now available for your Miller Road Luxury Candle Jar.
1. Once you've burnt almost to the end of your candle (about 1cm of wax remaining) pop the jar in hot water so the remaining wax melts.
2. Wipe out remaining wax with a paper towel, clean and dry.
3. Using a knife or similar pop the old wick out of the base (take care not to scratch the glass if possible) 
4. Pop your refill in, light as normal and enjoy!
Be kind to the planet: re-use your glass vessel, lids and avoid excess packaging.
Candle Care Tips

To ensure maximum burn hours, reduce soot, and keep you safe:
- On the first burn, ensure the entire top surface has melted to the edge before extinguishing. This sets your candles memory, and prevents tunneling
- Always trim the wick to approx. 0.5cm before each use to reduce smoking
- Do not burn for more than 4 hours at a time
- Never burn to the bottom of the container as the glass could explode
- Never leave a burning candle unattended
- Keep out of reach of children, draughts, and pets
Fragrance Descriptions

Aurora Skies
Notes: Jasmine, Saffron, Cedar Wood, Ambergris, Cotton Candy

Bamboo & White Lily
Notes: White Lily, Fresh Cut Bamboo, Lemon, Fir Needle, Jasmine, Musk, Rose.

Beach
Notes: Fresh Air , Sea Salt, Sweet Musk, Melon & Crisp Apple

Coconut + Lime
Notes: Creamy Coconut, Lime, Lemon, Fresh Florals, Vanilla, Sandalwood.

Dulce de Leche
Notes: Butterscotch, Maple syrup, Caramel, Vanilla, Condensed Milk, Orange, Bourbon.

Fig
Notes: Fig Leaf, Bergamot, Sap, Fig Pulp, Jasmine, Coconut, White Woods.

Flower Shop
Notes: Cassis, Lemon, Tuberose, Jasmine, Ylang Ylang, Almond, Coconut.

French Pear
Notes: Green apple, White lily, Osmanthus, Brandied Pears, Spice, Cinnamon, Davana, Whipped Cream, Vanilla.

Lime + Basil + Mandarin
Notes: Lime Zest, Mandarin, Basil leaf, Thyme, Jasmine, Cyclamen.

Lodge
Notes: Orange, Clove Leaf, Vanilla, Tonka Bean, Leather, Patchouli, Musk.

Moroccan Sunset
Notes: Tobacco, Vanilla, Raspberry, Orange, Tonka bean, Coriander, Pink Pepper, Musk, Cedarwood, Amber.

New York
Notes: Sandalwood, Cedarwood, Cardamom, Ambroxan, Orris, Moss, Patchouli, Lime, Orange, Mandarin, Violet, Jasmine.

Paris Nights
Notes: Smokey Sandalwood, Geranium, Lavender, Patchouli, Jasmine, Clove, Oud Wood, Smoke, Vetiver, Tobacco

Peach
Notes: Peach, Coconut, Vanilla, Musk , Orange, Wild Berries, Jasmine, Freesia

Saffron Rose
Notes: Saffron, Pink Pepper, Rose, Oud, Smoke, Leather, Bergamot, Iris, Chilli, Violet, Suede, Turkish Delight, Patchouli, Vanilla, Musk

Spa
Notes: Lemon, Cardamom, Lavender, Mimosa, Heliotrope, White Woods, Musk, Tonka Bean.

White Woods
Notes: White Indian Sandalwood, Creamy Almond, White Musk, Cedar, Exotic Spices, Marshmallow, Cashmere, White Patchouli, Cedar, Amber.
Dimensions

Fits perfectly in your Miller Road Luxury Candle glass
Weight: 300g
View full details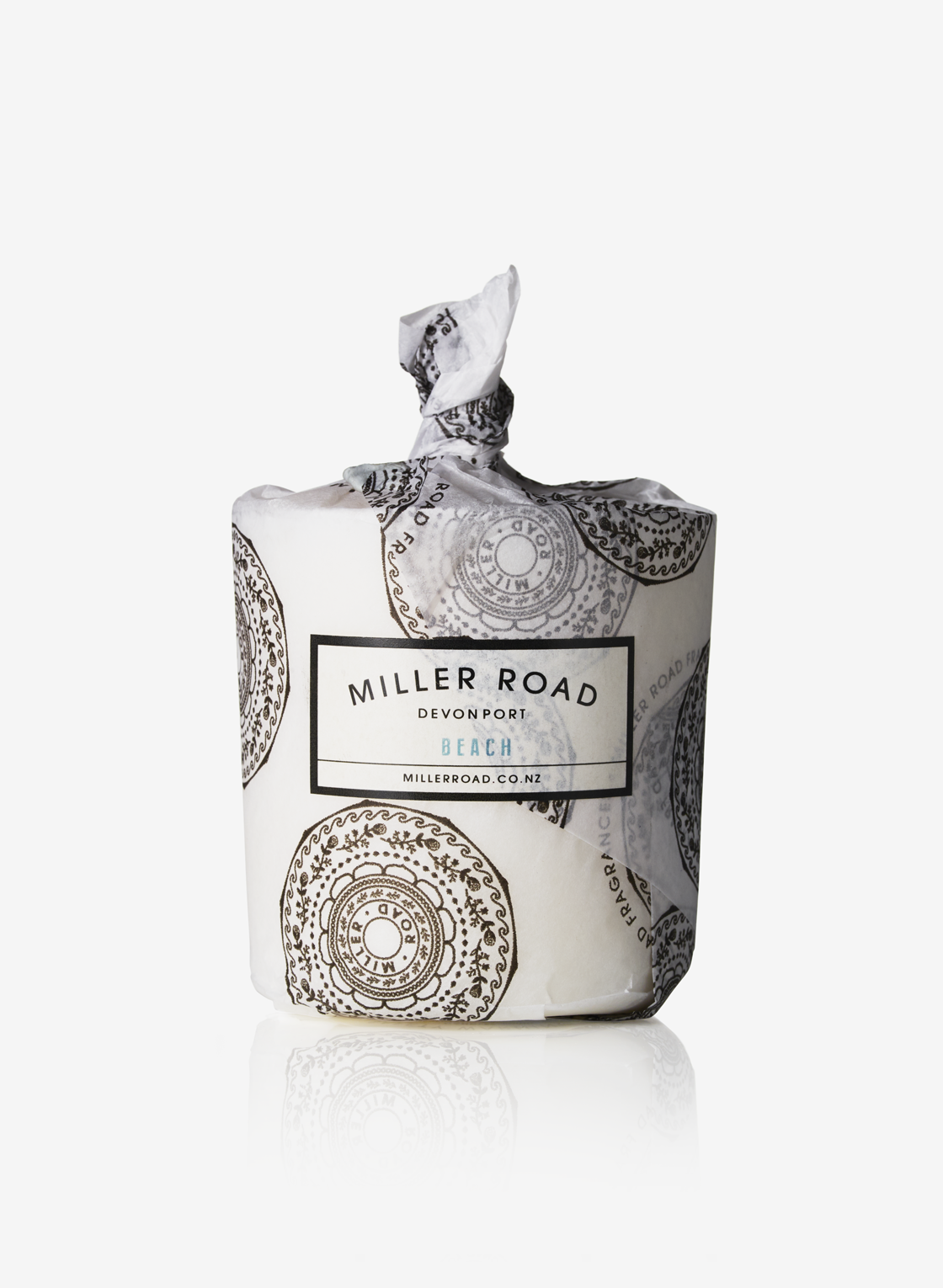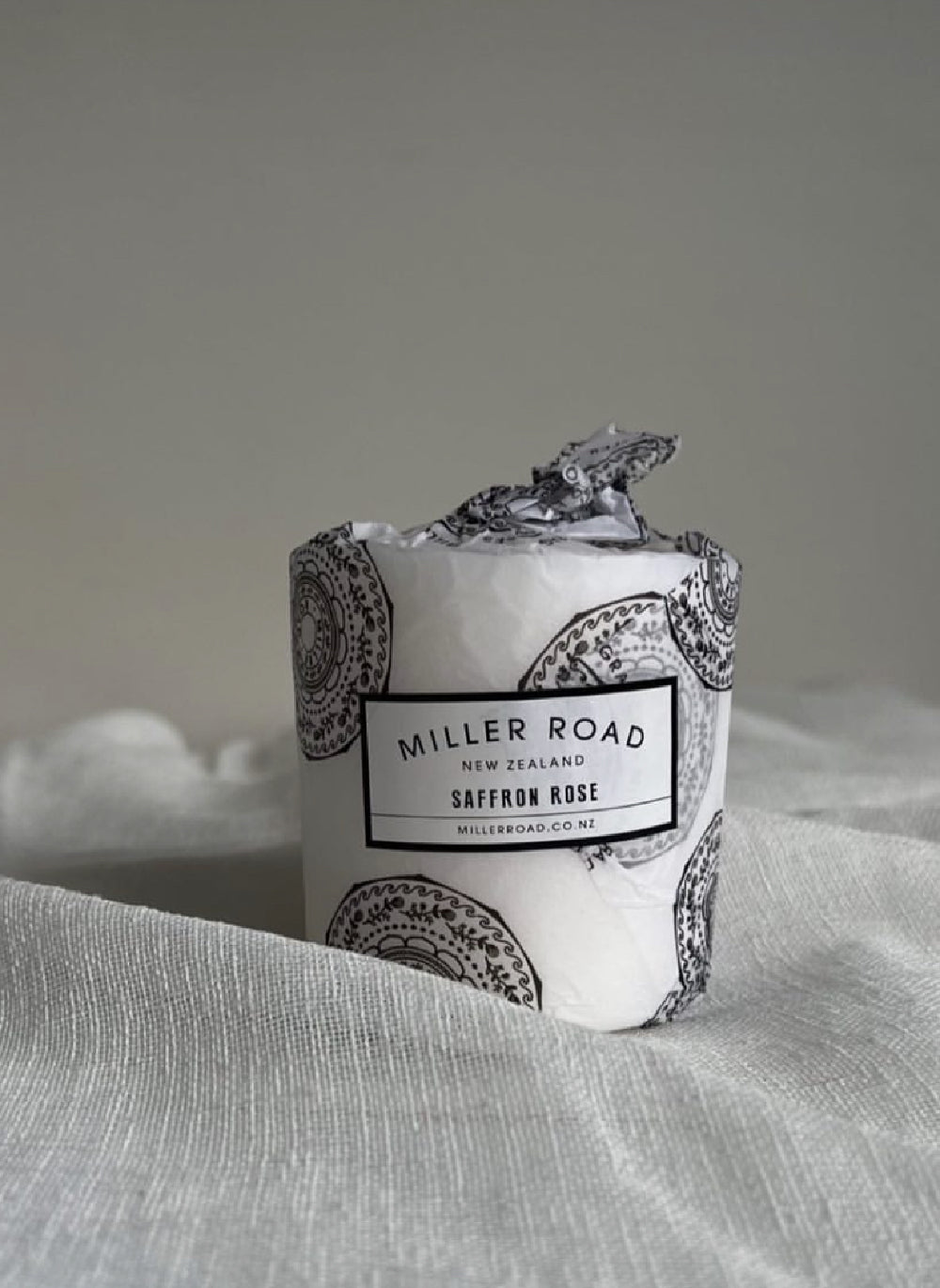 Amazing
So happy my favourite Aurora Skies is now available in a refill.
Such a great idea.
Amazing
Thank you for going out of your way to get your products to me that I ordered!!
Absolutely incredible!
These candles are exquisite, beautifully packaged and smell devine! My absolute favourite in all rooms of my home and perfect for gifts 💗
Love the candles
I think your prices are too high. Take away all that fancy packaging that just gets thrown away. Not practical or necessary
Hi Nikki, thank you for your feedback and glad to hear that you love the candles! The main reason for our price point is not so much the packaging but our candles are made using organic coconut soy wax, they're hand poured right here in New Zealand and we source the highest quality materials we can. We believe our packaging gives a luxury feel that our customers love, especially for gift giving. However we have the option of candle refills which are a fantastic choice for after your first candle purchase, so you can reuse your candle glass. With refills you don't get the whole packaging experience that comes with our candles as the refills are just wax wrapped in a bit of tissue paper. We are always looking for ways to improve and your message has already been sent to our founder for consideration. Thank you.
my fave!
Such an innovative idea and so easy to use!