Regular price
Sale price
$44.00 USD
Unit price
per
Sale
Sold out
Our candles are hand poured in New Zealand with organic coconut & soy wax. Experience consistent, long-lasting fragrance with every burn.
Keep your glass and refill with our Candles Refills
Candle Care Tips

To ensure maximum burn hours, reduce soot, and keep you safe:
- On the first burn, ensure the entire top surface has melted to the edge before extinguishing. This sets your candles memory, and prevents tunneling
- Always trim the wick to approx. 0.5cm before each use to reduce smoking
- Do not burn for more than 4 hours at a time
- Never burn to the bottom of the container as the glass could explode
- Never leave a burning candle unattended
- Keep out of reach of children, draughts, and pets
Fragrance Descriptions

Aurora Skies
Notes: Jasmine, Saffron, Cedar Wood, Ambergris, Cotton Candy

Bamboo & White Lily
Notes: White Lily, Fresh Cut Bamboo, Lemon, Fir Needle, Jasmine, Musk, Rose.

Beach
Notes: Fresh Air , Sea Salt, Sweet Musk, Melon & Crisp Apple

Coconut + Lime
Notes: Creamy Coconut, Lime, Lemon, Fresh Florals, Vanilla, Sandalwood.

Dulce de Leche
Notes: Butterscotch, Maple syrup, Caramel, Vanilla, Condensed Milk, Orange, Bourbon.

Fig
Notes: Fig Leaf, Bergamot, Sap, Fig Pulp, Jasmine, Coconut, White Woods.

Flower Shop
Notes: Cassis, Lemon, Tuberose, Jasmine, Ylang Ylang, Almond, Coconut.

French Pear
Notes: Green apple, White lily, Osmanthus, Brandied Pears, Spice, Cinnamon, Davana, Whipped Cream, Vanilla.

Lime + Basil + Mandarin
Notes: Lime Zest, Mandarin, Basil leaf, Thyme, Jasmine, Cyclamen.

Lodge
Notes: Orange, Clove Leaf, Vanilla, Tonka Bean, Leather, Patchouli, Musk.

Moroccan Sunset
Notes: Tobacco, Vanilla, Raspberry, Orange, Tonka bean, Coriander, Pink Pepper, Musk, Cedarwood, Amber.

New York
Notes: Sandalwood, Cedarwood, Cardamom, Ambroxan, Orris, Moss, Patchouli, Lime, Orange, Mandarin, Violet, Jasmine.

Paris Nights
Notes: Smokey Sandalwood, Geranium, Lavender, Patchouli, Jasmine, Clove, Oud Wood, Smoke, Vetiver, Tobacco

Peach
Notes: Peach, Coconut, Vanilla, Musk , Orange, Wild Berries, Jasmine, Freesia

Saffron Rose
Notes: Saffron, Pink Pepper, Rose, Oud, Smoke, Leather, Bergamot, Iris, Chilli, Violet, Suede, Turkish Delight, Patchouli, Vanilla, Musk

Spa
Notes: Lemon, Cardamom, Lavender, Mimosa, Heliotrope, White Woods, Musk, Tonka Bean.

White Woods
Notes: White Indian Sandalwood, Creamy Almond, White Musk, Cedar, Exotic Spices, Marshmallow, Cashmere, White Patchouli, Cedar, Amber.
Dimensions

Boxed Candle Size: 11.3cm (H) x 11.3cm (W) x 11.3cm (D)
Boxed Candle Weight: 1kg
Burn Time: 55 hours (approximately)
View full details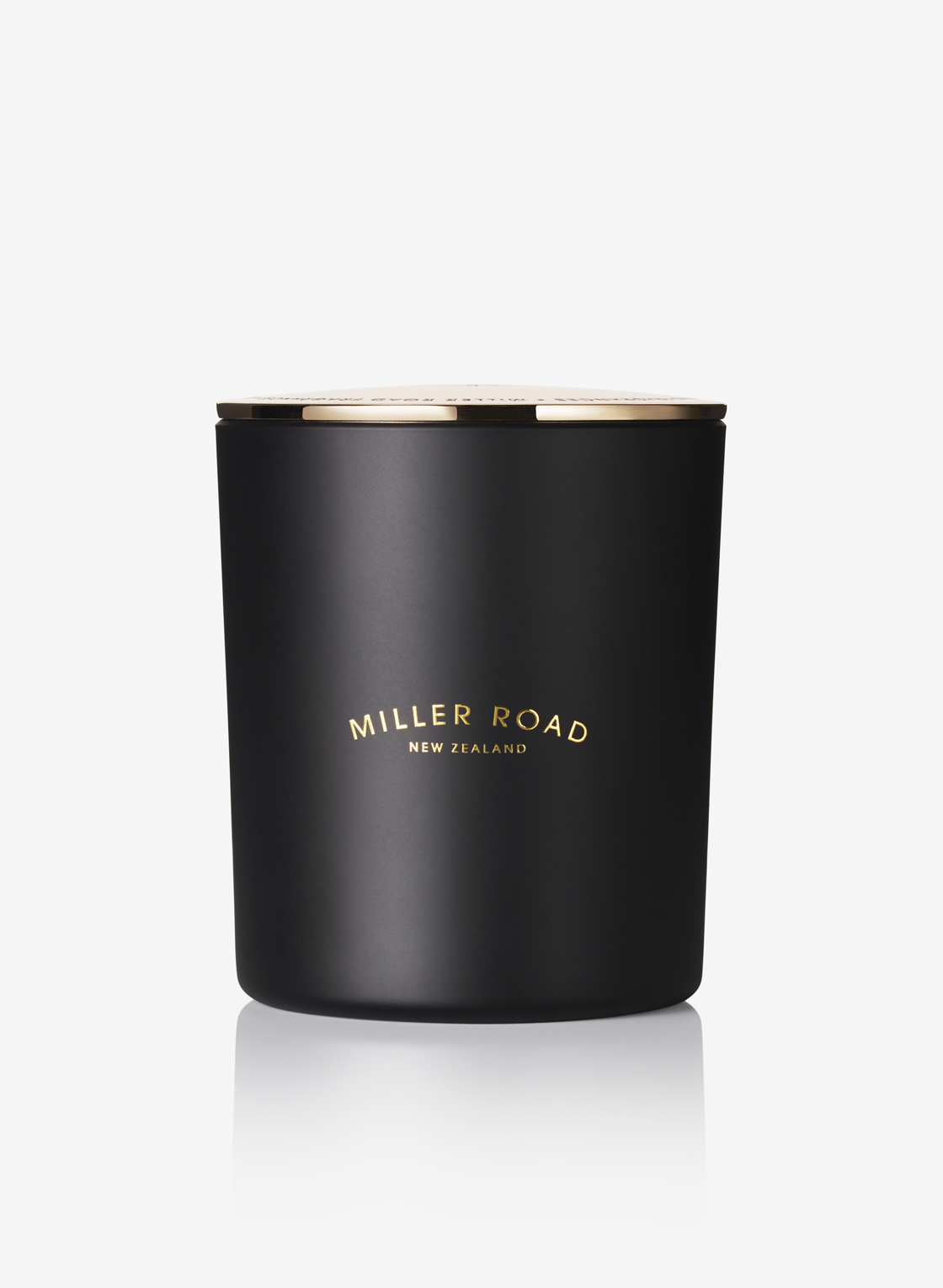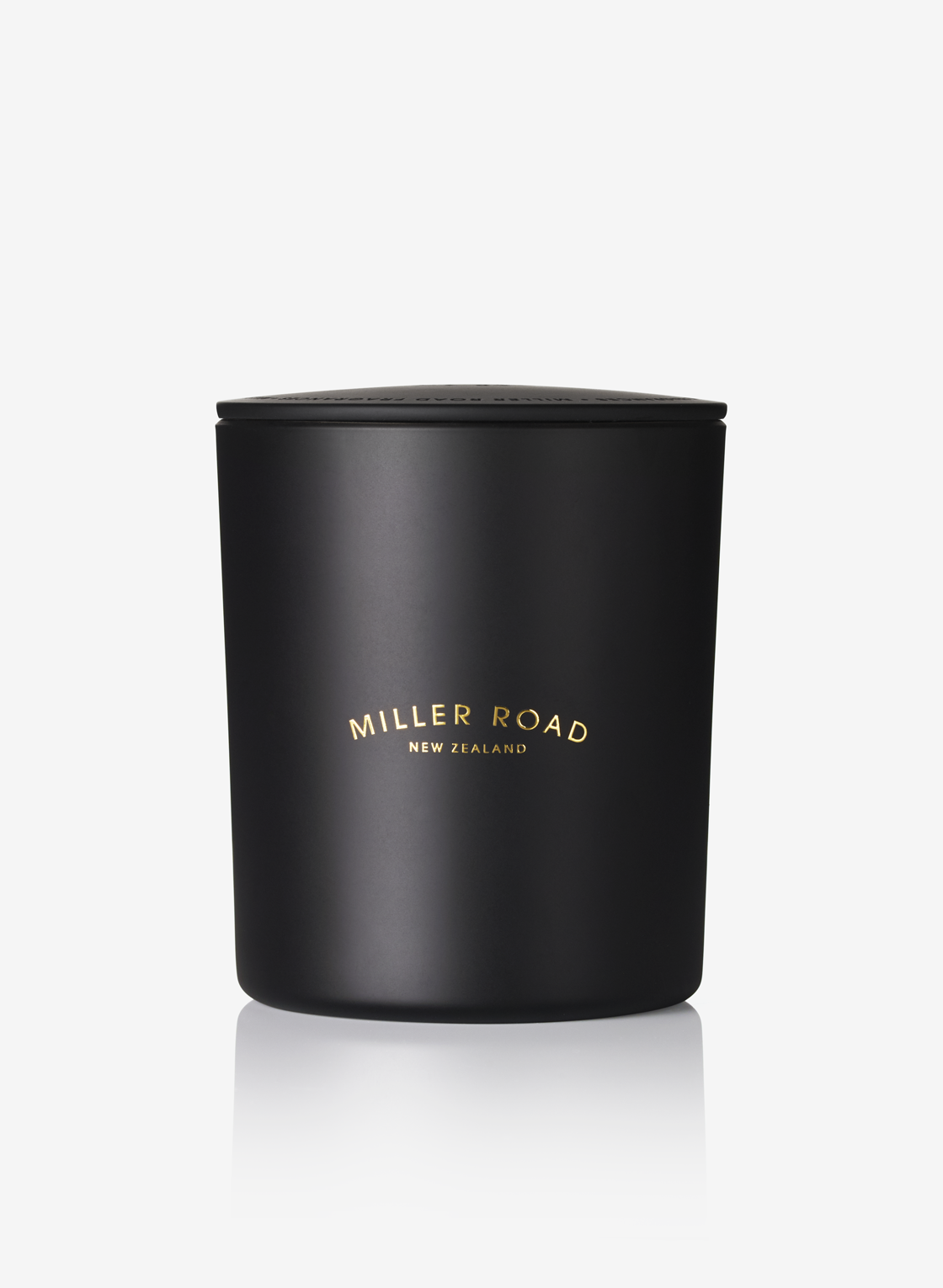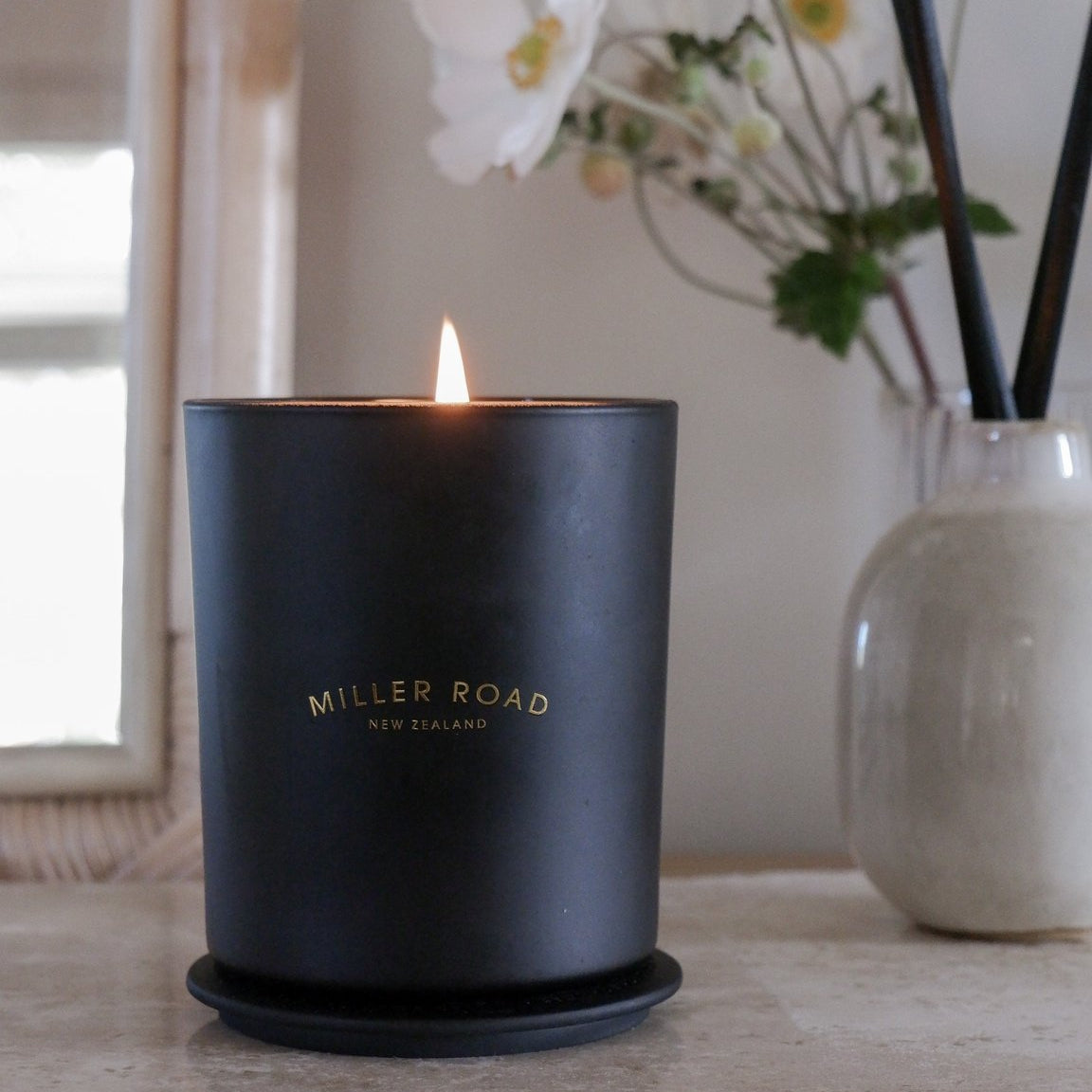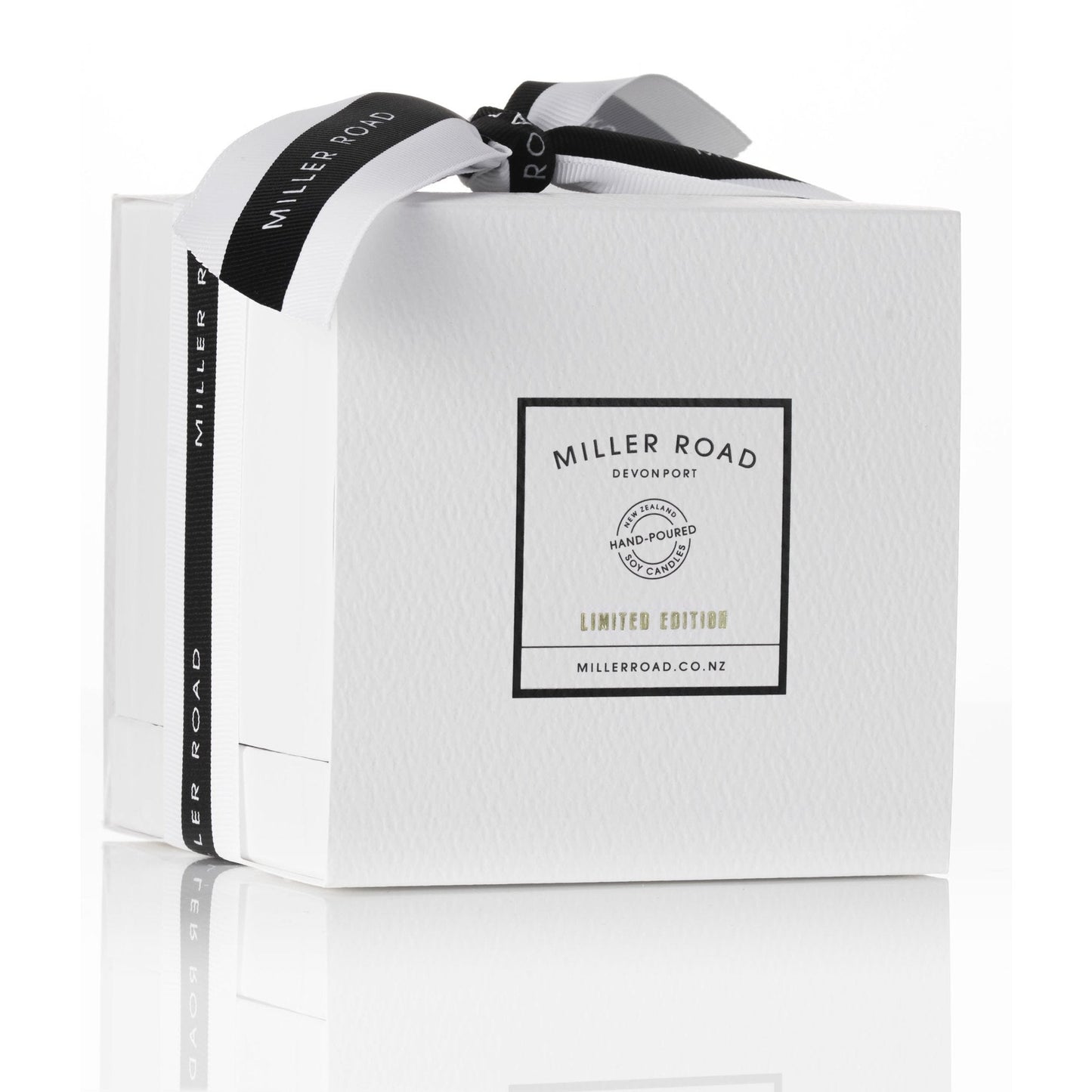 Lovely candle, beautifully presented, a perfect present
I love my candle, I have been seeking a matt black one for a while, I am delighted to find Miller Road Frangrances. I may never burn it but knowing I can even buy refills, makes the candle even better. It really was beautifully wrapped too, almost a shame to open it. Thank you!
New York Candle
I recently ordered a black New York candle and 3 refills. They arrived very quickly to Sydney and are perfect. Amazing scent.