Regular price
$31.00 USD
Sale price
$31.00 USD
Unit price
per
Sale
Sold out
Created to perfectly fit our Luxury diffuser glass vessels.
This refillable option allows you to reuse your favourite diffuser glass, minimising packaging and environmental impact.
All refills come in a 120ml glass bottle with a fresh set of reeds.
This diffuser oil can only be used with our White Luxury Diffuser and Black Luxury Diffuser.
 *Don't use with car clip scent diffuser or electric diffuser as it will damage them.
Diffuser Care Tips

- Remove the reeds from your empty luxury diffuser and throw them away.
- Pour the diffuser refill into your Miller Road Luxury Diffuser glass container.
- Insert your new aroma reeds (fragrance strength can be altered by adding more or less reeds).
- Recycle the diffuser refill bottle.
- Turn reeds every few days to refresh the fragrance.
- Wash your hands if they come into contact with fragrance oil.
- It's best to place your diffuser on a coaster as the oil can damage surfaces if spilled.
Fragrance Descriptions

Aurora Skies
Notes: Jasmine, Saffron, Cedar Wood, Ambergris, Cotton Candy

Bamboo & White Lily
Notes: White Lily, Fresh Cut Bamboo, Lemon, Fir Needle, Jasmine, Musk, Rose.

Beach
Notes: Fresh Air , Sea Salt, Sweet Musk, Melon & Crisp Apple

Coconut + Lime
Notes: Creamy Coconut, Lime, Lemon, Fresh Florals, Vanilla, Sandalwood.

Dulce de Leche
Notes: Butterscotch, Maple syrup, Caramel, Vanilla, Condensed Milk, Orange, Bourbon.

Fig
Notes: Fig Leaf, Bergamot, Sap, Fig Pulp, Jasmine, Coconut, White Woods.

Flower Shop
Notes: Cassis, Lemon, Tuberose, Jasmine, Ylang Ylang, Almond, Coconut.

French Pear
Notes: Green apple, White lily, Osmanthus, Brandied Pears, Spice, Cinnamon, Davana, Whipped Cream, Vanilla.

Lime + Basil + Mandarin
Notes: Lime Zest, Mandarin, Basil leaf, Thyme, Jasmine, Cyclamen.

Lodge
Notes: Orange, Clove Leaf, Vanilla, Tonka Bean, Leather, Patchouli, Musk.

Moroccan Sunset
Notes: Tobacco, Vanilla, Raspberry, Orange, Tonka bean, Coriander, Pink Pepper, Musk, Cedarwood, Amber.

New York
Notes: Sandalwood, Cedarwood, Cardamom, Ambroxan, Orris, Moss, Patchouli, Lime, Orange, Mandarin, Violet, Jasmine.

Paris Nights
Notes: Smokey Sandalwood, Geranium, Lavender, Patchouli, Jasmine, Clove, Oud Wood, Smoke, Vetiver, Tobacco

Peach
Notes: Peach, Coconut, Vanilla, Musk , Orange, Wild Berries, Jasmine, Freesia

Saffron Rose
Notes: Saffron, Pink Pepper, Rose, Oud, Smoke, Leather, Bergamot, Iris, Chilli, Violet, Suede, Turkish Delight, Patchouli, Vanilla, Musk

Spa
Notes: Lemon, Cardamom, Lavender, Mimosa, Heliotrope, White Woods, Musk, Tonka Bean.

White Woods
Notes: White Indian Sandalwood, Creamy Almond, White Musk, Cedar, Exotic Spices, Marshmallow, Cashmere, White Patchouli, Cedar, Amber.
Dimensions

Diffuser Refill Size: Perfectly fits our Luxury diffuser glass vessels when poured.
Diffuser Refill Weight: 200g
Liquid: 120ml
Diffusing Time: 1 year (approximately)
View full details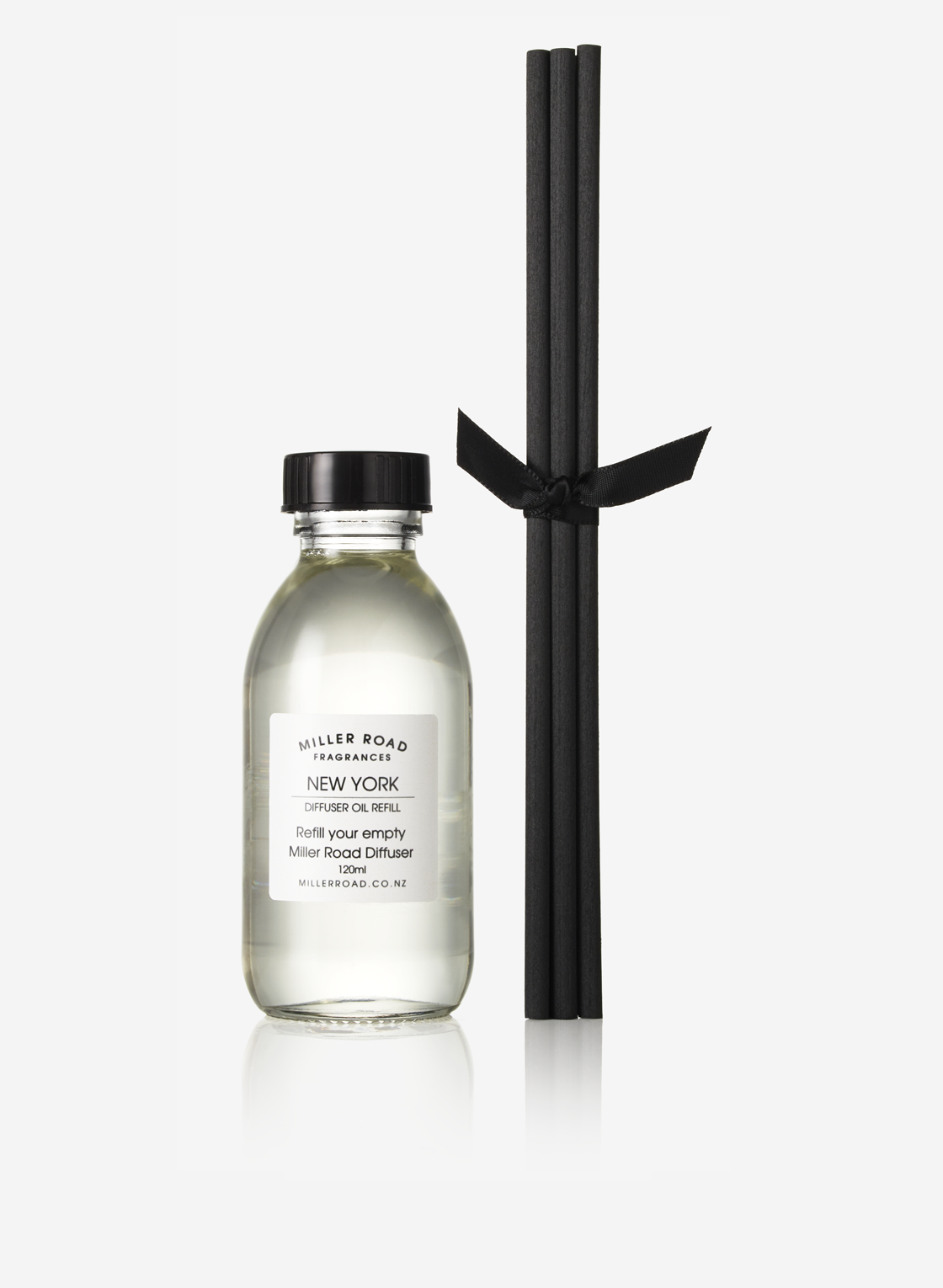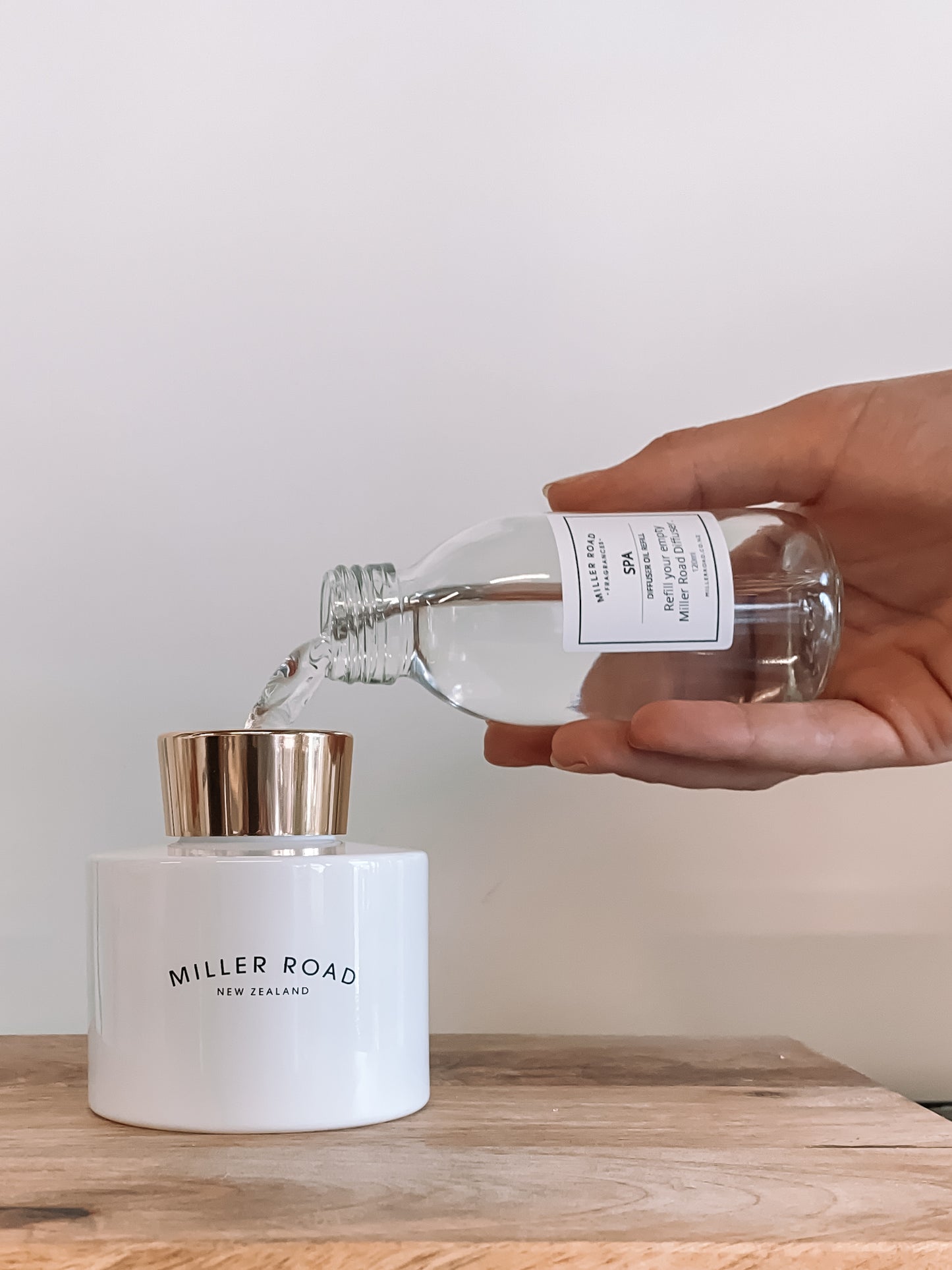 Wonderful product, amazing service, thank you 🙏
Beautiful shop and lovely staff. Love my diffuser
Great service. Lovely product.
Consistently Pleased
Once again I am pleased to purchase a refill for my diffuser (Paris Nights).
It fills the bedroom with a warm and evocative perfume.
Thank you Miller Road not only for this product, but for supporting good refill practices.
A strong scent that really lasts
I have bought other diffusers over the years. They always smell great "out of the box" but then fade very quicky. Miller Road scents last so long. Love them. Plus, love the fact I can reuse the container.